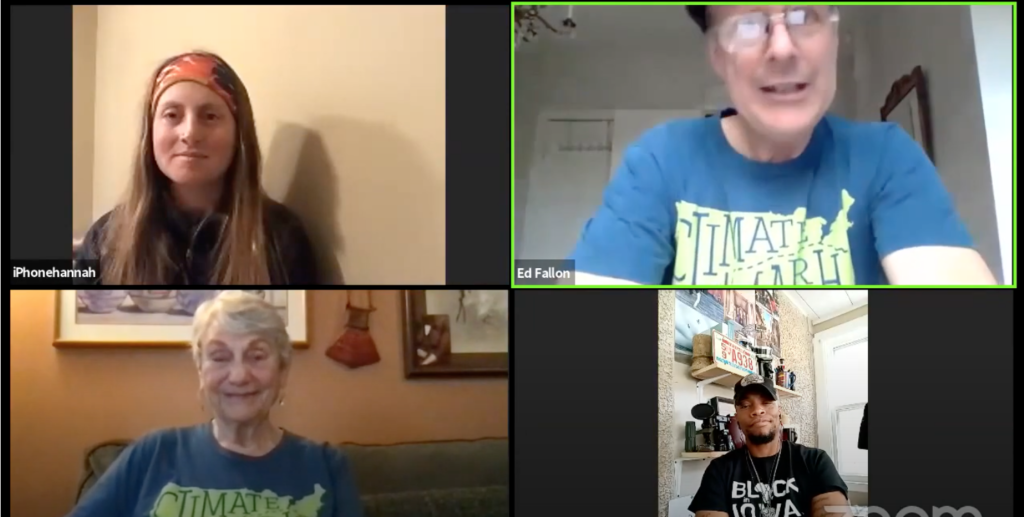 CLICK IMAGE TO WATCH MARCHER PANEL DISCUSSION
Thanks to Hannah Bacon, Miriam Kashia, and Pascha Morgan for participating as panelists, and to Ed Fallon for moderating. (Scroll to the bottom of this page for biographies.)
Special thanks to the 2014 marchers, March staff, and March supporters, listed below, whose financial support helped make possible our partnership with The Race to Save the World:
CLIMATE MARCH STAFF
Ed Fallon, founder and director
Forrest Determann, technology consultant
Sarah Spain, logistics director
Shari Hrdina, administrative director
CLIMATE MARCHERS
Charles Goldman (marched in Nebraska)
Cheryl Child (marched in Colorado)
David Osterberg (marched in Iowa)
Diggy (marched in Iowa)
Fernando Cazares (marched from Chicago to Washington, DC)
Maureen McCue and John Rachow with PSR-Iowa (marched in Colorado and Iowa)
MARCH SUPPORTERS
Anonymous
Carol Spaulding and Tim Kruse, who set us up with a solar collector
Chet Guinn
Eddie Mauro, community activist
Greg Maynard
Kathy Byrnes, Birds & Bees Urban Farm
Marilynn Keller
Monica and Roy Greene
Ralph King and Leslie Chin
Susan Franzen, KHOI 89.1 FM Radio (Ames, Iowa)
*******
CLICK IMAGE TO WATCH THE TRAILER
"From Joe Gantz, the Emmy-winning producer of American Winter and Ending Disease, The Race To Save The World offers an intimate portrait of activists, age 15 to 72, as they put themselves on the line to fight climate change. Encompassing protests and arrests, courtroom drama and family turmoil, these everyday heroes push to create a sustainable world, often risking their relationships, careers – and freedoms in the process. Drawing on powerful footage and moving interviews, The Race to Save The World is an inspiring call to action, urging each one of us to become climate warriors for a livable future."
Joe Gantz's team filmed the 2014 Great March for Climate Action to be part of this documentary. Marchers Miriam Kashia, Michael Zambrano, Sean Glenn, and Mack Wilkins are featured.
Go to TheRaceToSaveTheWorld.com to view the movie.
*******
PANELIST AND MODERATOR BIOS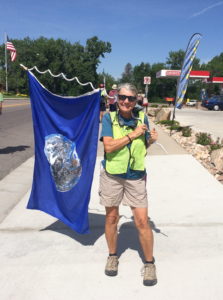 MIRIAM KASHIA. In 2014, at age 71, Miriam walked every step of the way across the USA with the Great March for Climate Action. She has since continued her activism unabated, including being arrested several times fighting climate change.
Regarding the 2014 March, Miriam writes, "We spoke to thousands of people along the way and witnessed the increasingly devastating effects of our climate crisis for ourselves. Seven years later, the crisis has only increased exponentially. There is nothing more important I can do than work for a livable future."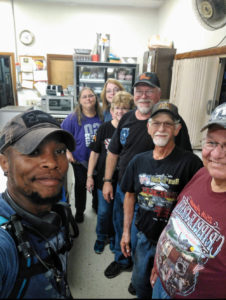 PASCHA MORGAN. In 2019, Pascha walked 1200 miles from Iowa to Texas — a solo journey  called the March Against Detaining Asylum-seeking Families (or MAD-AF).
Pascha writes that the purpose of his walk was "to put words like compassion, empathy, and human dignity into action. Love of others can make you MAD-AF."
The climate emergency also motivates Pascha in his work, and he is very active in Des Moines' Movement for Equality and Equity. The intersectionality between equality, equity, and climate is infused in all aspects of his work.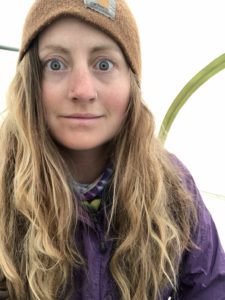 HANNAH BACON. Hannah walked over 3,000 miles solo across the US in 2020-2021 to raise awareness about the climate crisis and to raise funds for the Sunrise Movement. She raised $21,000 and lots of awareness.
Hannah writes, "In October of 2020, I flew from New York to San Francisco to visit friends. One week after landing in California I committed to walk back East, a decision I am attributing to my love for Santa Cruz, reading David Wallace-Wells' The Uninhabitable Earth, being unemployed, and having two nieces I love deeply."
ED FALLON. Panel moderator Ed Fallon is a former state lawmaker who now hosts a talk show and directs Bold Iowa. With Miriam Kashia and others, he walked coast-to-coast with the Great March for Climate Action in 2014.
For the past twelve years, Ed has hosted a talk show — The Fallon Forum — that airs on six stations in five states and is available as a podcast. He also operates an urban farm in Des Moines with his partner, Kathy Byrnes, called Birds & Bees Urban Farm, where they teach classes and workshops on how to turn a lawn into dinner.